Olsen-banden overgiver sig aldrig (1979)
English title: "The Olsen Gang Never Surrenders"

A custom Technic vehicle playing a role in the movie: it is used to open a locked door from the inside.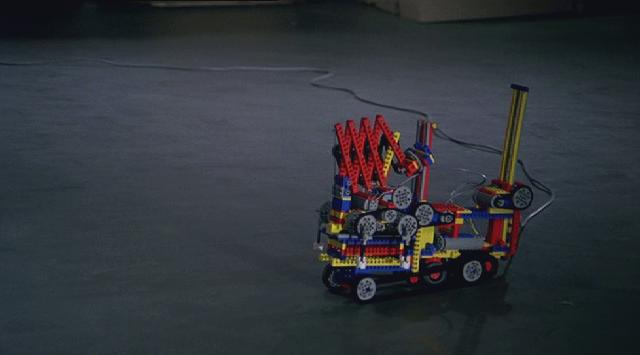 Source of the picture: page on IMCDb.org

The scene was reused in a later Swedish movie: Varning för Jönssonligan

There was also a Norwegian version, according to this e-mail received from Petter:
I have more information on "Olsen-banden overgiver sig aldrig (1979)"
The Olsenbanden movies got popular in Denmark, Sweden and Norway and was made in three versions , one for each country
It was Danish in origin but made with different actors in Sweden and Norway, but mostly with the same script.
So in Norway the movie with this Lego creation was called "Olsenbanden gir seg aldri"
Info provided by: Weasel1984
Pictures provided by: Weasel1984
---